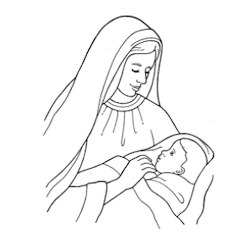 There are many events and initiatives we could try at St Andrew's, but we only have limited energy and resources. So, to seek God's plans for the coming year we will be having a focus on praying together from 29th November to 17th December.
There will be daily reflections and prayer ideas based on the Magnificat (the song of Mary) available below and the following times to join together with others:
Wednesday 29th November 7.30pm A service of Holy Communion and prayer to mark St Andrew's Day
Tuesday 5th and 12th December 12.30pm Prayer during the day on zoom
Wednesday 6th and 13th December 8am Morning Prayer on zoom
Thursday 7th and 14th December 5.30pm Evening prayer on zoom
Sunday 17th December 10am Morning prayer with focus on praying for our parish.
To join us on Zoom from a PC, smartphone or tablet click http://bit.ly/StANS on a standard phone, ring 0208 080 6592 and enter 813 6651 6924 # when asked.
How to use these reflections
Through Advent, try to immerse yourself in the remarkable words of Mary in response to God's calling on her life. Each day will focus on one segment, and we suggest you approach it as follows:
Pray for the Lord to help you engage with the Scripture
Read the passage on the front page, then the segment for the day
Reflect on it using the questions provided to help you. You might like to use the back of the booklet to write down your thoughts.
Pray again into your own situation and for God's work through us at St Andrew's church. Use the prayer on the front page to close.
You can read the daily prompts below, or download the whole booklet here.
The Magnificat has been the inspiration for many wonderful pieces of music. Listen to Noble's setting of the Magnificat in B flat, sung by the choirs of Newbury, Wanborough and Bishopstone.