Local Support:
At the beginning of December (Sunday 5th December in 2021) we invite people to make donations of gifts for those spending Christmas in the women's refuge. This year they are asking for the following items (all brand new please).
Christmas hamper food: Christmas cake, Christmas pudding, crisps, chocolate, biscuits, soft drinks and non-perishable items (No Alcohol please)
Women's gifts: make-up, make-up bags, toiletries, cosy socks, scarves, gloves, hats, books, PJs, dressing gowns.
Children's gifts: toys, soft cuddly toys, books, dolls, puzzles suibable for all ages, board games.
Gifts for teens (ages 11-16): DVDs, make-up, hairbrushes and hair accessories, science kits, make-up bags, toiletries, gloves, sarves, hats, cosy socks, mugs, books
Stocking fillers for all ages: Sweets, chocolate etc
Stationery: felt tip colouring pens, crayons, colouring books, art and craft sets, notebooks.
Swindon Foodcollective's mission is to reduce the impact of food poverty on people in crisis in Swindon and district area. They do this primarily by providing supplies for individuals and families in need from their weekly distribution centres. We collect items for them every week. As they have a good supply of most foods at the moment they have asked particularly for products to keep people safe: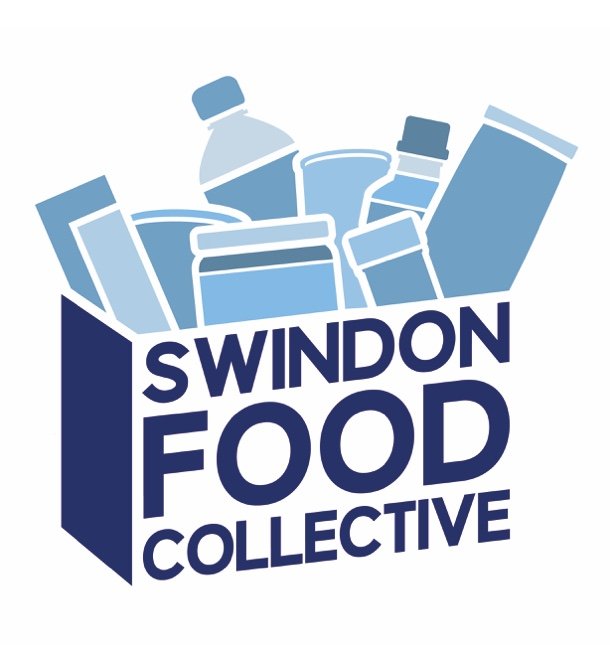 Anti-bacterial wipes
Cleaning cloths
Household cleaners
Deodorants (male and female)
Laundry pods/power/liquid
Laundry Conditioner
Soap
Shower gel (male and female)
Surface cleaners
Toilet rolls
Toothpaste & Toothbrushes
Wash & Go 2 in 1 (shampoo/conditioner)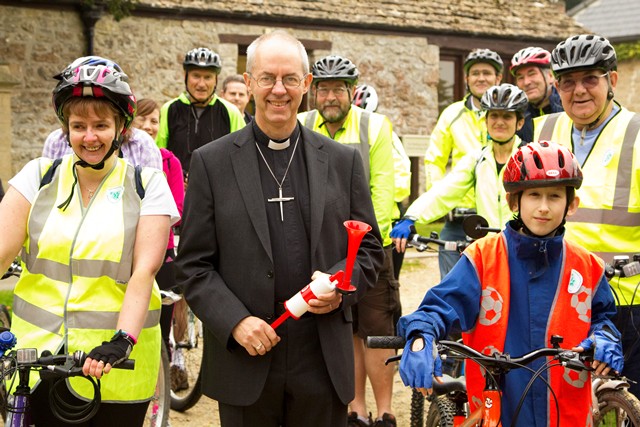 The annual Ride & Stride event around local churches in September helps raise funds for this non profit organisation which gives grants to churches for building repairs. This photo with the Archbishop of Canterbury was taken at the start of last year's Ride & Stride. Members of our church are in the photo!
Some church members are involved with:
National Support
works with vulnerable children and young people in England and Wales.
Every Christmas Eve, we hold a Christingle service and the collection from that service is sent to the Children's Society.
Christians Against Poverty provides free debt help and local community groups across the UK. Our free services, run with local churches, provide practical and emotional support and show people that there is always hope.
is an Anglican charity which supports seafarers in the UK and around the world. Each year in July we celebrate Sea Sunday and there is a retiring collection for the work of the Missions to Seafarers.
International Support
is an international development charity which works with people, of all faiths and none, in around 50 countries, to eradicate poverty.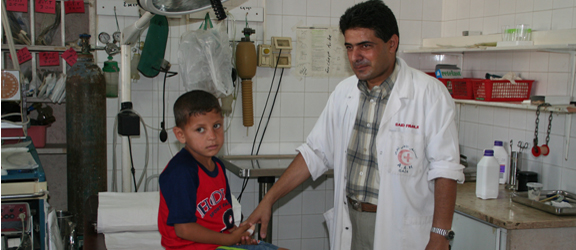 JMECA is a UK based Anglican charity which seeks to raise awareness of and to support financially, prayerfully and practically the work of the Christian churches in the Middle East and North Africa in schools. hospitals and churches.
Toilet Twinning provides people in the poorest communities on the planet with a decent toilet, clean water and all the information they need to stay healthy.